The city of Hiroshima is known across the world as one of the sites where the atomic bomb was dropped at the end of World War II. Despite its tragic past, Hiroshima is now a blossoming metropolis, with a stunning castle and an affinity with baseball. It's bordered by the Pacific in the south and mountain peaks to the north, so you can both explore the coastline and hike up peaks. The best luxury hotels in Hiroshima are some of the most unique in Japan, and these are the very best of them.
Luxury Hotels In Hiroshima, Japan
Hiroshima Washington Hotel
If you want to save your money for souvenirs, the Hiroshima Washington Hotel offers the greatest value in the city. It's got affordable rates for quality accommodations. Depending on the location of your room, you may also get a panoramic view of the city.
These lodgings located conveniently close to the Hatchobori Tram Station, a mere five-minute walk from the Hiroshima Washington Hotel. You can take the tram to nearby attractions, including Hiroshima Port. You're also a short walk from Hiroshima Castle and the Hiroshima Peace Memorial Park.
The hotel itself offers clean, spacious rooms where you can rest between checking out the various sights. The rooms also include modern amenities like a flat-screen TV, mini-fridge, and an electric kettle. On top of all that, Hiroshima Washington Hotel is also a great place to start your day, thanks to the breakfast buffet that features both Western-style and Japanese dishes.
Rihga Royal Hotel Hiroshima
Located within walking distance of the Hiroshima Atomic Bomb Dome and Memorial Park, the Rihga Royal Hotel Hiroshima is a convenient place to rest. They have a 24-hour front desk, ensuring that someone is always available to cater to your needs.
The rooms provide a great view of the surrounding area. They are also a bit bigger compared to the typically cramped Japanese standards. You can relax in comfort with air conditioning or enjoy a hot shower with surprisingly powerful water pressure.
When you're ready to fill your stomach, you can simply walk downstairs to the Rihga Royal Hotel diner, which offers great food in a buffet-style setting. Food is available all day and includes Japanese, French, and Chinese cuisine.
The only drawback is that you need to pay an extra fee to swim in the pool or visit the fitness center. This fee does help cut down on the number of guests, however, so you won't need to battle to use gym equipment or swim laps.
36hostel
This central Hiroshima hostel is the epitome of contemporary cosiness. Its minimalist aesthetic is paired with an on-site café and library, perfect for bookworms and caffeine addicts alike.
Their extensive book and magazine collection, spanning numerous languages and genres, can be read in the cosy nooks around the hostel or in their artisan café. If you are passionate about coffee, you will feel right at home, as the beans are sourced from local roasters. Dorms and private rooms are available, and toiletries are provided free of charge.
A boutique hotel that truly caters to every kind of traveller, the Share Hotels offer shared dorms and luxury doubles, as well as rooms of Japanese design with the same crisp, modern decor.
The hotel also includes a shared kitchen and a lounge space for those who want to make their own meals or work alongside others. For a touch of luxury, visit the poolside bar, where the best baristas in Hiroshima will serve you freshly brewed coffee or juice.
Guest House Coco Hiroshima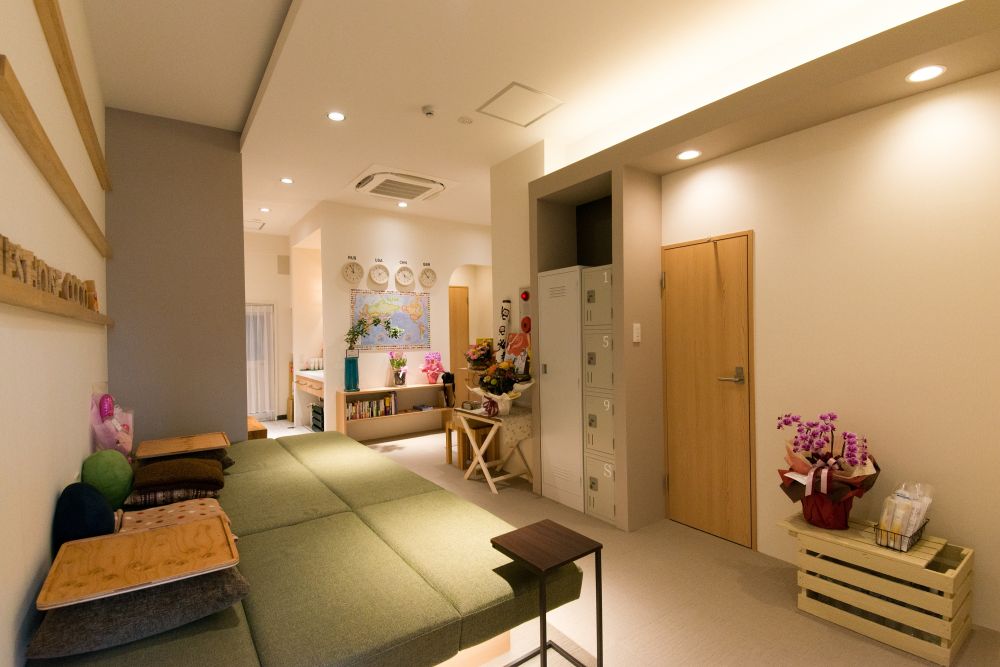 Perfect for women travelling on a budget, this female-only hostel provides a comfortable space to sleep and socialise in central Hiroshima. Just a few minutes' walk from the train station, Guest House Coco also offers a bag-drop service, so you can arrive early and get on with your day of sightseeing. Look out for their adorable swallow sign, which represents good luck and travel, to know you have arrived. The wooden cabin beds in the dorms come with a curtain for privacy, an overhead reading light and shared facilities including a mini kitchen, bathrooms and coin laundry facilities.
Sansui Ryokan
A full ryokan experience in the centre of Hiroshima, this is ideal for art lovers or people passionate about Japanese culture, as they offer heritage classes on site including calligraphy and tea ceremonies. You can also try on a kimono, giving you the space to take pictures in a relaxed setting. The rooms are in a traditional Japanese style with tatami flooring and snug futons, making this a wholesome, relaxing stay after a day in the city.